I found myself with a long weekend to get back out on the trail after my first bikepacking trip and I have decided to hit up a section of the Natchez Trace, as it is a long distance biking area within a few hours of me, and additionally has the benefit of designated campgrounds along my journey.
The Natchez Trace Parkway is a 444-mile recreational road and scenic drive through three states (Tennessee, Alabama, and Mississippi). It roughly follows the "Old Natchez Trace" a historic travel corridor created and used by Native Americans for centuries, and was later used by early European and American explorers, traders, and emigrants in the late 18th and early 19th centuries. Today, the Parkway has been declared a National Scenic Byway and an All-American Road, and has been chosen as one of America's 10 best biking roads. It is open year-round for motorists, hikers and bikers.
It was established as a unit of the National Park System in 1938 and officially completed in 2005, the Parkway is currently headquartered in Tupelo, Mississippi and continues to be maintained and administered by NPS.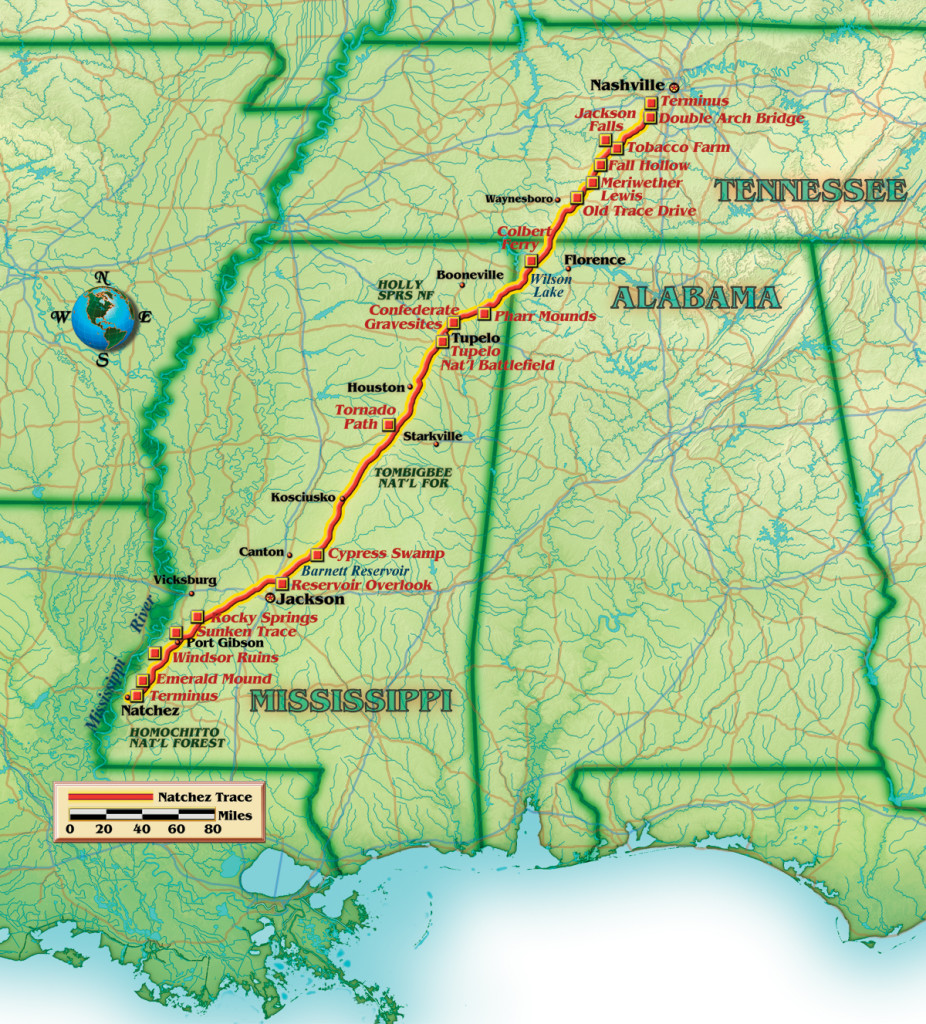 For my upcoming trip, I am going to do an out and back section from Jeff Busby Campground (MM 193) and head south to Kosciusko Bicycle Campground (MM 159) for a total of 66.8 miles for the trip over two days. I chose this section of the trail for the proximity of designated campgrounds in between a distance that I knew that I could do (abide this will be my longest stretch of riding over two days). However, the interesting thing about this ride is it's on a roadway- meaning there will be vehicle traffic (speed limit is capped to 50 mph), so unlike my last trip, I will be sharing the road with cars. I plan on biking in high visibility colors and will have my rear flasher on. My route will take me past the town of French Camp (MM 180), which will provide a nice stop for a late breakfast or lunch and a water fill-up. Additionally, I will pass by the Bethel Mission picnic area (MM 176) which will give me a safe spot to take a break if needed. Otherwise, MM 176-159 will have no other provisions until I arrive at camp.
Other Camping Information about the Natchez Trace:
Resources in my planning process:
Received a bicycle packet with NPS for free via: Email us and specify "Bike Packet" Please note that mail will be sent out once a week. Or calling 662-680-4027.